Meet Liz and Jim: Love, Laughter and Retirement Living in Memphis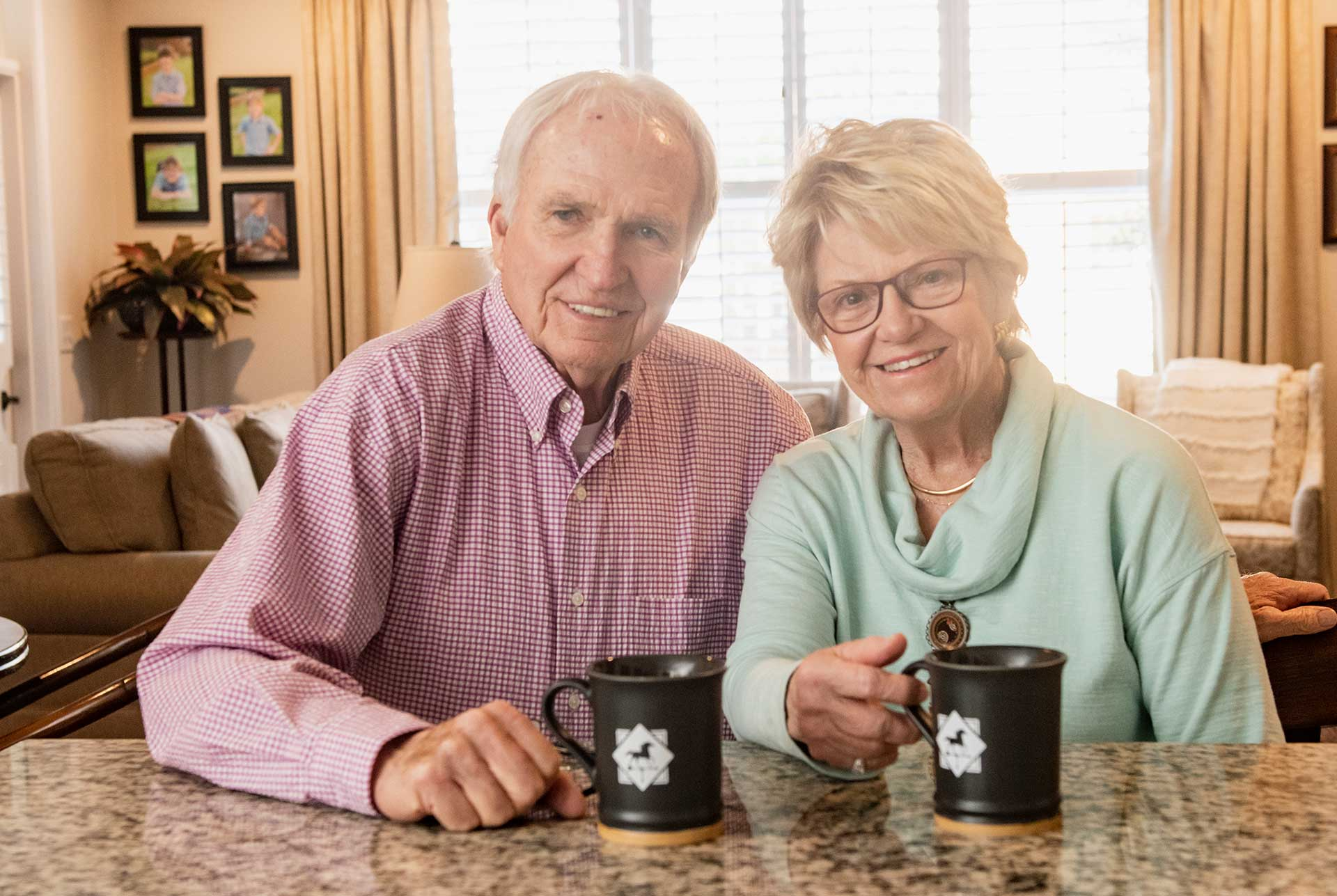 Making the Most of Their Free Time
You might see the duo whiz by on tricycles with their little dog in the basket or meet them in the garden because they're always up to something. From clubs and committees to gardening and entertaining, Liz and Jim are definitely making the most of their days on and off campus.

Moving to the Memphis area from up north in Tennessee has been wonderful for the Horners. Being closer to their grandkids—who visit often—is something they cherish. And they've made a lot of new friends on campus, too.

"They [their grandchildren] love the food here, and we do too. Of course, they love the pool, but we also have a ping-pong table, which was the first thing one of our grandsons, who's now 17, gravitated toward. The first year we moved, he said to us, 'When I grow up, I want to live here.' So, they like it, and whenever they visit, we always find fun stuff to do, even if it's just a game of Monopoly in our apartment."

"Our five-year-old grandson likes the courtyard outside our room too. We're on the first floor and have easy access to a circular path for the kids to ride scooters. And they love everyone's dogs here. It's a good place for our little visitors," Liz says.

Making an Impact
Liz and Jim's can-do attitude is part of what makes them such wonderful additions to our community. Whether they're beautifying the community garden with their flowers or sharing their latest strawberry harvest, you can always count on them. Jim serves on the building and grounds committee and likes helping make the community a better place for everyone.
"Part of my time is spent talking to residents about their concerns regarding landscaping and repairs. I do whatever I can to make sure things are kept up," Jim explained. "People like a pleasant view from their apartments, so I encourage them to help us keep things in good shape. If they see something that needs to be fixed, I'm here to help."
Jim's been known to take groundskeeping tasks into his own hands if he sees something he can easily take care of himself. In fact, landscaping is one of his passions as he volunteers at a local high school to help keep its campus as gorgeous as The Village grounds.

The Village features a green biking trail where you'll find folks cruising along on their own bikes or one of the five loaner tricycles residents can use. Jim ensures this path is always tidy by picking up fallen branches and clearing away mud so that walkers and cyclists don't slip.

All in a Day's Joy
In addition to helping, Liz and Jim both like to take advantage of all there is to do on campus and in nearby Germantown.

After breakfast, the first order of business is taking their dog for a walk (or ride). Next, Liz likes to go to exercise classes, while Jim sometimes goes to a men's fellowship group. Both are big fans of the on-campus Cafe Bistro, which has delicious grab-and-go lunch options that help fuel them as they run errands, do volunteer work and enjoy other adventures.

At day's end, Liz and Jim enjoy that they have plenty of options for unwinding. Sometimes it can be as simple as a good book or a bike ride, or it could be a party on the patio or a movie in the theater. Last week, they caught a few Elvis flicks as part of "Elvis week."

They both agree that spending time with their neighbors is the best part of their lives at The Village. They look forward to dining with people and getting to know them better.
"I love having dinner with six of my good friends and not having to shop, cook or clean," Liz jokes.

Dinner isn't the end of the day's socializing at The Village, though. "Just last night after dinner, we had The Village Putt-Putt out on the golfing green, which they do every Tuesday night during the summer. They actually have many activities after dinner. Last week, we had a violinist come in and give a performance, and before that, there was a piano concert, which was also wonderful," Liz says.
With action-packed days like these, it's no wonder the past two years have flown by for the Horners. They've always been joiners by nature, but life at The Village made it easy for them to make new friends. Having a little dog in the basket of your tricycle doesn't hurt either.
Are you thinking about moving to a retirement living community? If ukulele classes, enriching performances, invigorating fitness classes, a community garden, great friends and more sound appealing to you, give us a call at 901-737-4242 today to schedule your visit.
---