Tiny Instruments Create a Big Sound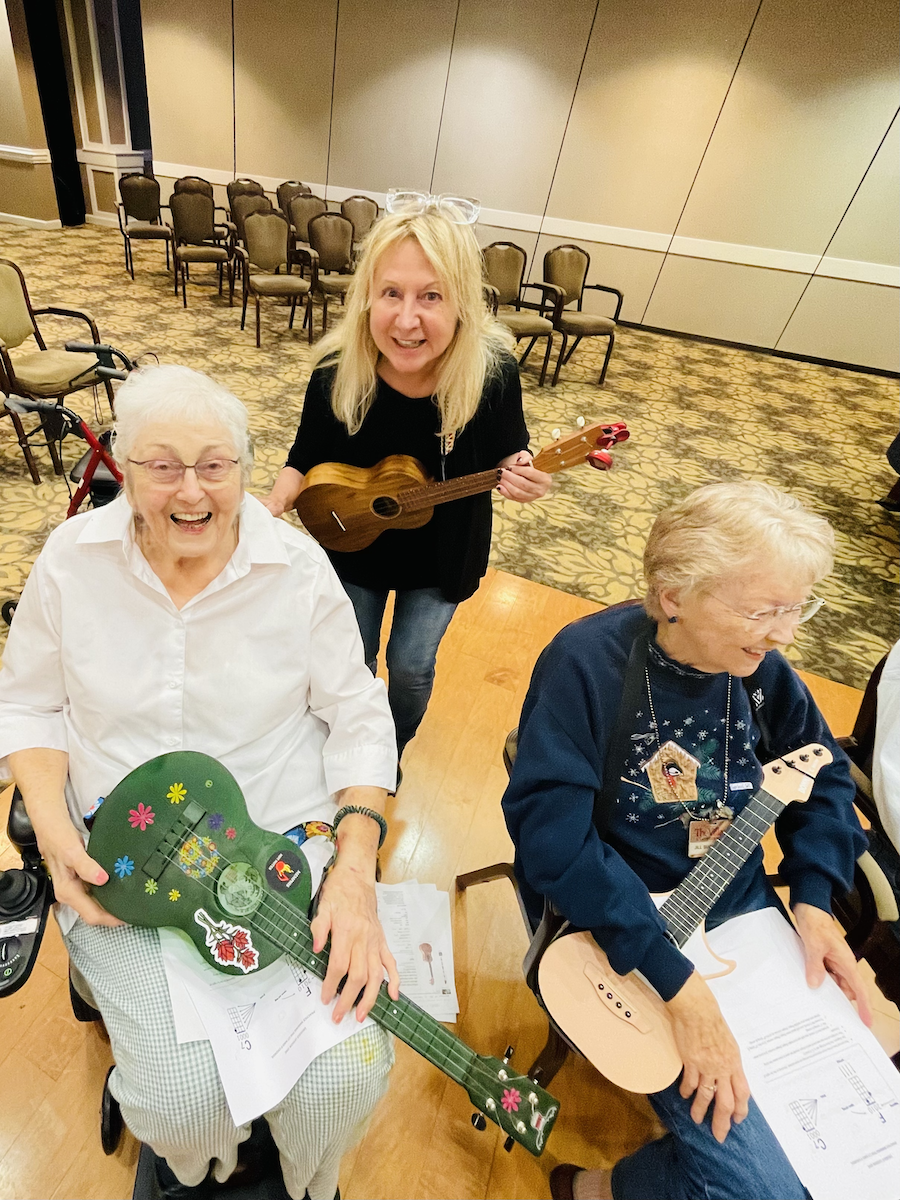 Music lessons make life a little more fun at The Village at Germantown
There's more to a ukulele than what you see in a plastic, dashboard Hula dancer's arms—it's actually a very accessible way to get into making music. You might be surprised to learn there are four types of ukulele: soprano, concert, tenor and baritone. They each make their own unique sound and fit nicely into a band like Vicki Campbell's Memphis Hot Notes. Vicki took up the ukulele about eight years ago, and she loves it so much she's started teaching classes at retirement communities in the Memphis area. An ever-growing group of residents at The Village at Germantown looks forward to the weekly lessons. Here's how she got started at The Village.

Meet Vicki Campbell

After performing with the Memphis Hot Notes at The Village at Germantown, the entertainment director, Kaylee Jackson, invited Vickey to teach some classes. "I was so excited when Kaylee called about the idea of teaching seniors to play the ukulele. The beautiful thing about the ukulele is that it's a happy instrument. It's hard to pick the thing up and not smile when you're playing it. It's the simplicity. Since they're so small they kind of invoke laughter and smiles. It's also a very easy instrument to learn to play for all ages. There are only four nylon strings which are easier on your fingers than a guitar string," Vicki said.

What started as a hobby for Vicki soon became a passion. Teaching was something she had always been interested in. "I just love the whole idea of it. I've never taught before, but I attend a lot of ukulele workshops and festivals. About four years ago, I took a class on how to teach ukulele classes for beginners and was certified by our Memphis Shelby County Public Library. At that time, they were offering classes for anyone who wanted to learn how to play or teach the ukulele. I was officially certified as one of their teachers. That took off for a little while, but the person who oversaw that program left the library and it fell by the wayside," Vicki said.

A brief history of the ukulele

This small, short-necked instrument originated in Europe, but Portuguese immigrant Joao Fernandes brought it to the Hawaiian Islands in 1879. His melodic strumming and singing amused the Hawaiian islanders so much that they called the instrument "ukulele," which translates to "jumping flea." By end of the 1800s, the sound of the ukulele was everywhere across the islands.

The ukulele was brought to the mainland US during the 1915 World's Fair in San Francisco, just a few years after Hawaii was acquired by the United States. Americans interest in Hawaiian culture skyrocketed in the 1920s, and department stores like Sears began carrying tropical printed shirts and inexpensive ukuleles. The Great Depression introduced the ukulele to new players as they were a much cheaper alternative to traditional instruments. By the late 50s, the instrument was reaching its peak popularity after famously appearing with Elvis in the iconic movie Blue Hawaii. The trusty ukulele was somewhat forgotten until the early 2000s when quirky celebrities like Zooey Deschanel made them hip again. That's around the time Vicki picked it up and she's noticed the popularity of the ukulele has only increased since then.

Making music is "brain healthy"

Did you know that research shows learning an instrument is great for seniors? Playing music creates a calm and relaxing environment that contributes to a lowered heart rate, regulated blood pressure and slower breathing. Studies have also shown that just an hour of playing music a day can reduce stress as well as soothe anxiety and depression. That all adds up to a happier you!
Although "Brain Training" with web-based programs like Lumosity have been trending for years, whether they make a measurable result in cognition is inconclusive. Do you know what has been clinically proven to increase brain function? If you guessed playing an instrument, you got it!

Most folks already know about the cognitive benefits of word games and puzzles. Playing an instrument is even better! It requires an alignment of the senses: vision, hearing, touch and emotion. Science has shown that music lessons can vastly improve brain structure and function and they can also improve long-term memory. Most of all, music makes players and listeners feel good. A sense of accomplishment is granted by a simple strum.

"We're up to about 14 people in our class. Last weekend, after just our second lesson, everyone was able to play 'Happy Birthday.' The ukulele is something that you can learn quickly without having to know all the music theory. The chords are pretty simple after you know which strings to push down at the same time, and how hard to strum. Once you can make a sound, you can make a song. My goal with teaching is to make sure everyone is having a good time. I get positive feedback when I see everyone laughing and smiling. I truly believe in the mental health benefits of playing music. There are studies that show that playing a musical instrument or learning to play one is beneficial for better brain function," Vicki said.

Keeping residents happy and engaged is a big part of life at The Village at Germantown which is why plenty of classes and activities are available on a daily basis. Playing music brings up warm memories and draws people closer together. Vicki is hoping her students will be able to give a recital for other residents soon to show off what they've learned. Residents can join in the fun every Saturday on campus.

Are you looking for a friendly and inclusive retirement community? Call one of our Life Plan advisors at 901-737-4242 today and let's see what we can do together.

---