More Than Just Plants Are Growing In Our Community Gardens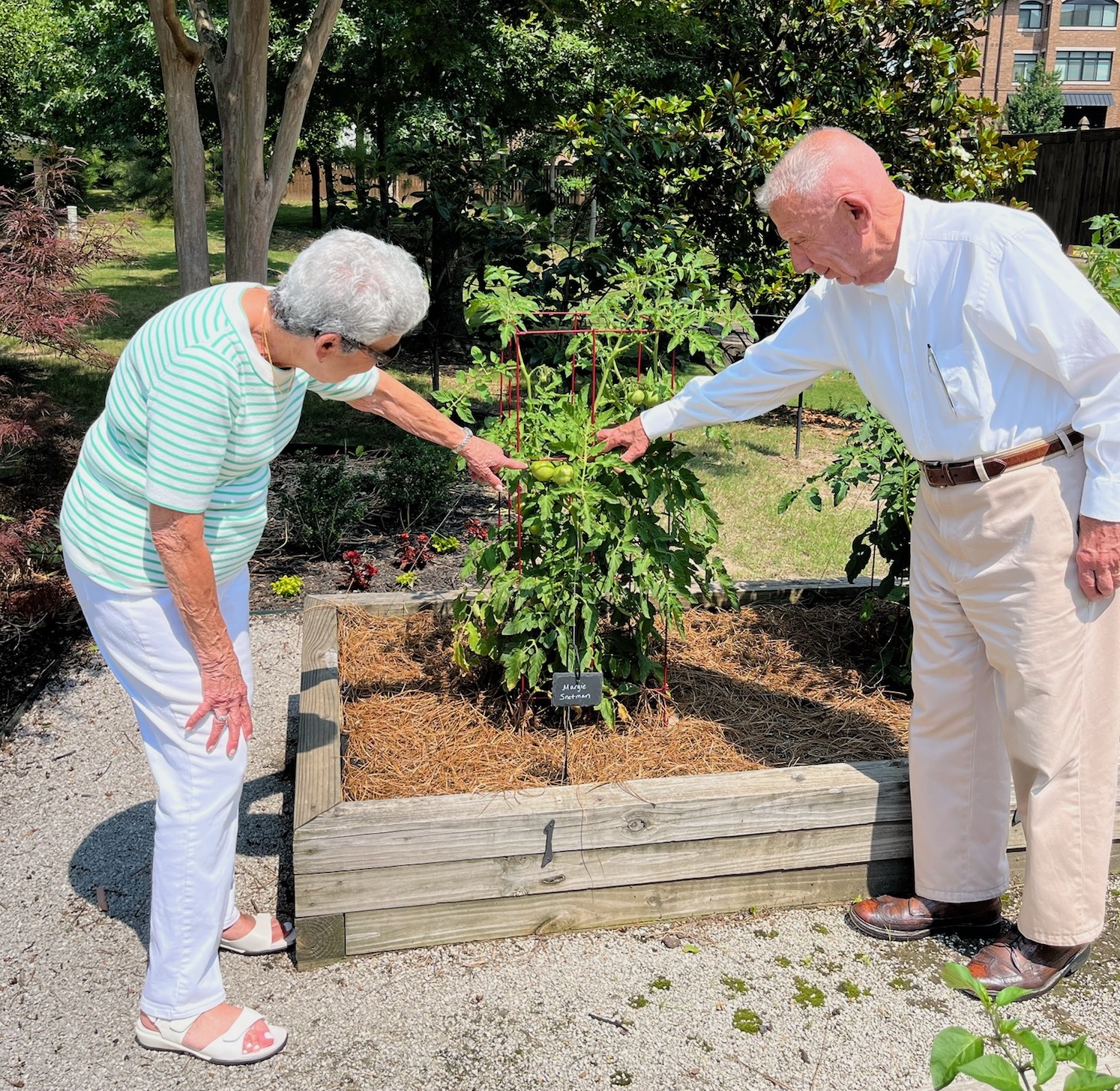 New friendships blossom all summer long in our community gardens.

Nothing tastes more like summer than a big, juicy, fresh-off-the-vine tomato and fortunately, growing tomatoes in a home garden couldn't be easier. With a little sun, some warm weather, a dash of water and some love, you can harvest tomatoes all summer long. And, for the resident gardeners at The Village, growing their own tomatoes is not only one of their favorite things about summer but also a very healthy form of competition

A Little Competition

Residents like Margie Snetman and her neighbors look forward to the growing season so much they compete to see whose plant will produce the first ripe fruit. Margie's a two-time tomato winner! Last year she took home the prize for "most productive plant," and this year, she won an award for being the first tomato gardener with fully ripe tomatoes. Margie was tickled to return from a recent trip to find three beautiful red tomatoes waiting for her in the garden.
You might be wondering about the secret to her success. "I've been a gardener most of my life. You name it, I've grown it. Last year was the first time I've ever tried tomatoes, though. I'm 97 years old, so there are some things I can't do, but we have people here who can help. Another gardener dug a hole deep enough for me, then showed me how to use fertilizer and put a cage around my plant. They start small but get pretty bushy by the middle of summer. There's not much more to it," Margie explained.

She plans on giving one tomato to her daughter, who lives nearby, and the other to a friend who watered her plants while she was out of town. Trading produce with neighbors is a big perk of gardening at The Village.
Friendship Grows in Our Garden

"It's like a family," she continued, "I've made so many friends in the garden. Everybody shows off their plants just like parents show off their kids. We're all so proud of them! And everybody helps each other out. You don't need to know anything about gardening to get started. You just decide you want to do it, and somebody's there to help you."

You'll find all sorts of things growing in our resident gardens, but tomatoes and flowers are the most abundant. Some folks, however, are more adventurous.

"There are all kinds of vegetables out there, and it's fun to look and see what the blooms turn into. There's a man who grows strawberries, and his patches really multiplied; we've got a lot of strawberries out there! They're so good and sweet, and he likes to share them, which is nice. One of the more unique things I've seen, though, was somebody grew asparagus. It didn't look like what I imagined it would. It's very tall and leafy, like a fern," she said.

Come Grow with Us

Gardening is an excellent activity for every age, but it can be especially relaxing for seniors. Spending time outside with friends is a big reason Margie plants a garden every year. Residents can sign up for beds in early spring; the sky's the limit on what you can grow. In Memphis, the growing season can last from April through October, giving neighbors many opportunities to mingle in the garden.
Our garden features paved walkways and raised beds, which are easier for seniors who may have trouble bending over. Raised beds also ensure that plants only grow in nutrient-rich soil. Each gardening bed is about two feet by two feet, with plenty of space to grow a large tomato plant. The Village staff also help residents by filling the raised beds with new soil and mulch every spring. Each bed has its own irrigation system; that way, one person can water multiple beds simultaneously. Margie won the tomato ripening contest thanks to a neighbor who kept her plant watered while she was away. That's just the kind of community spirit you'll find at The Village.

Are you thinking about putting down some new roots somewhere you can thrive? Come see us in the garden this summer. We love to share the bounty of our harvest with everyone. Margie has about 15 tomatoes ripening on her plant, and she can't wait to make someone's day with a homegrown tomato. Book your visit today by calling our marketing office at 901-737-4242.
---